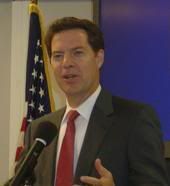 Online Connectivity Report CardWebsite - www.brownback.comNegatives
-No RSS Feeds to the News
-Only 2 Videos (which load slowly)
-No Links Section
-No Media Pictures
Positives
-Easy to Navigate
-Easy to Contribute Money
-Easy to Join the Mailing List
Social Networks
Myspace
Only 704 friends and the Brownback Myspace profile doesnt show up properly on my browser.
Facebook
2,613 friends and currently very active. Run by the Students for Sam Brownback Organization. The Brownback campaign should just hire the
www.studentsforbrownback.org/
to promote, recruit & organize the College Students.
No Friendster
No Hi5
No Livejournal
No Tagworld
No Bebo
Overall his online presence is pretty weak. If he is serious about running for President he is going to have to revamp his internet strategy.