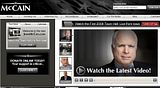 The new John McCain launched today and here is what TechPresident had to say about it.
Link
Here is what I thought:
The site seems to be a mix of
HillaryClinton.com
and
BarackObama.com
. It has the lets talk now virtual townhall of Hillary with the MyBarackObama Myspace-ish site.
The site design is very clean, a bit to polished and the color scheme reminds me of the Mercedes website. I like that there are plenty of videos, but no way to share them. I might have missed it but I didnt see any code to paste any of the videos on a website.
As for the McCainSpace, it's too long of a process to sign up. I signed up an hour ago but still haven't recieved an email letting me know I can log on.
Overall it's not bad. It could be
worse