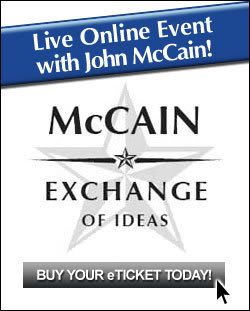 McCain will be hosting an Exchange of Ideas Forum on Thursday March 8th. For those who cannot attend, this event will also be available live via webcast. A concept that has been very successful for Hillary Clinton. Unlike Hillary the McCain webcast will come at a price, $100 for an E-Ticket that will allow you to log in and attend virtually.
I have mixed feelings about this strategy. First I have to assume that the only reason to do a webcast is to attract the younger tech savvy crowd. A demographics that is used to downloading movies, music and tv shows for free. I count myself among that same candidate and I would never pay $100 to watch some webcast that I know will most likely appear a few days later on YouTube. Someone unsure about McCain is definetly not going to pay $100 to watch the webcast.
My advice to the campaign would be to hold a free Webcast invite everyone to come and listen to McCain speak and end the night with an invitation to donate $100 to the campaign. I guess well see how it goes.