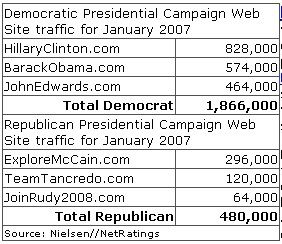 "HillaryClinton.com served nearly twice as many unique visitors in January as all three top Republican candidates combined. Clinton's website was the No. 1 presidential campaign site in January. BarackObama.com and JohnEdwards.com ranked second and third, with 574,000 and 464,000 unique visitors, respectively. This according to tracking service Nielsen//NetRatings."
from www.rtoonline.com
I personally think it has to do with the Hillary Campaign emails they send out on a weekly basis.
Last 6 Hillary emails I received
Feb 21st Bill Launches One Week One Million
Feb 26th One Week One Million update
Feb 27th One Week One Million update
Feb 28th Hillary HillCast Energy
Mar 6th Launching Women's Campaign HillCast Equal Pay
Mar 8th No More Lost Votes
I never realized how many emails I was getting from the Hillary Campaign. If the emails were from anybody else I would have been annoyed but I always seem to enjoy the Hillary emails. They are informative and always have a call to action, to join a campaign, send in your comments or watch a video.
Other Campaign emails I have received in the same time period (Feb21 - Mar8)
Barack Obama
Feb 21st De-Escalation in Iraq
Mar 1st Update on Recent Travels (includes a video)
Mar 6th Invitation to Donate
Mar 8th Another Invitation to Donate
John Edwards
Mar 2nd Shame on you, Ann Coulter Invite to Donate
Mar 7th They Deserve Better (Walter Reed Medical Center)
Mar 8th Leave no caucus-goer behind Video & Invite to Donate
Campaign emails are a great way to drive traffic to the campaign website and I am sure have played a role in helping increase the monthly traffic stats.