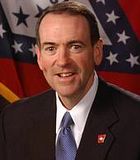 Huckabee Launches his blog with all kinds of goodies.
Huckabee Blog
Blog includes rss feeds, a blog roll, interview requests from bloggers and banners and buttons for your blog or myspace profile.
On the overall site, I would still like to see Mike endorse Facebook, Myspace, and YouTube. Other then that ,good Job on the Blog Mike!